---
LATEST NEWS (Updated 7-June-2010)
Note- click reload or refresh to make sure it's current; rely on your coach for the latest news.

---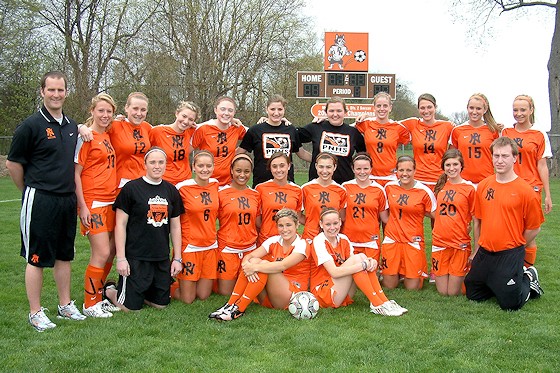 SMAC Finalists
It was a season that ended sooner than hoped for, yet it was a season of incredible soccer that family and friends are very proud of the team for. The Huskies played very well indeed, and didn't lose to any team that wasn't ranked in the top five in the state. Thank you players and coaches for treating family and friends to excellent soccer all season long; thanks for the memories! Thanks also to Ed Stinson for writing game summaries after each game. Re-live the excitement by reading the game summaries below. For additional photos not shown below, go to the photoshare page.
---
Season Ends at District Opener - 01.June.2010
The state tournament, win or go home, no seeding, just the luck of the draw. And perhaps it was just not good luck to draw one of the best teams in the state for the first game of districts, but that is what Portage CENTRAL had to deal with.
Yes, the Mustangs sit on top of the polls, but they drew the Huskies for the opening round and perhaps what could be their toughest challenge of the tournament came down to the final five seconds.
"If only"…how many times did this come up in the post game recap? There were a slew of opportunities, most coming in a frenzied final 8 minutes. But let's back up first. The Mustangs scored with ten minutes left in the first half off their specialty, a corner kick. But although PC possessed the ball perhaps 75% of the first half, that was their only tally, and the half ended PC 1 - PN 0.
Northern looked a little groggy near the end of the first half, but unlike their last two meetings with PC this year, the Huskies rose up to control much of the second half. Central did score a second goal with just under nine minutes left in the game to make it 2-0, but that is when Northern cranked up the passion. Cassie VanderSloot headed a corner off the post. Then with five minutes left, Sam Kay fired in a goal. Northern pushed for the equalizer, and got a corner kick with 20 seconds left. The ball bounded out to Erika Jansen with just over ten seconds left, and Erika hit a beautiful low shot that bounded off the post and into about eight Mustangs and Huskies five feet from glory. It looked like the NFL recovering a fumble. Where is the ball?? It skirted out and was knocked out of the goal mouth with seconds remaining, leaving the Huskies a goal short, 1-2.
Northern fans cheered their way through the exhausting ending, cheered and clapped continuously as the Mustangs mustered up a celebration, through the teams shaking hands, and through the Huskies tearful jog toward their home fans. This was one of the proudest moments a loss could generate. It's painful to think "what if", but to watch your team dig deep and come from behind and come within inches and seconds of moving on to who knows where in the state tournament…perhaps the hardest part is having to wait for nine months to get it started again.
Now if you're still with me, you must be a Northern fan and may need just a few final thoughts to wrap up the year, or in some cases, a career. Here is a toast to many:
Congrats: to Morgan Muchez and Maggie Woolley for being up on varsity for districts.
Freshmen:
Katie Sorensen, Karli Fisher, Nicole Berry, Shelby Adams, Hannah Scafaria…you are an exciting group of players who have contributed to this team's success in a huge way, and you are the future base of a team that will pull off some BIG victories. Ladies, I'm talking BIG.
Sophomores:
Casey Shauman: If you can improve on your speed next year, nobody will see you
Breanne Bye: If you were cocky, you could really be cocky
Erin Prior: Two more years of your skillful toughness is a very good thing
Danielle Melgar: Your green shoes mean just one thing…versatility (that really makes no sense, but you are a great player at both ends of the field)
Lauren Barlow: An unsung hero, working hard in practice to make the team more competitive, shining on D when given the opportunity
Chelsea Carpentier: practice or games, you give 100%, always
Josie Huss: you have great passion for soccer and the team
Juniors:
Sidney Block: you saved your best for last, a great game in goal, and simply grand improvement over the year.
Sam Kay: in your land of hustle, you often find the grass, the dirt, and thankfully, the NET.
Laura Glass: you're a three-sport star, and a shining star in the life of many
Jenna Long: you accepted the goalie challenge for the good of the team, and the team is grateful
Seniors:
Cassie VanderSloot: Your leadership, toughness, headers, scrappiness, and smile will all be missed tremendously.
Natalie McClish: You guarded the best, with fearlessness. Even though you are a defender, you scored the goal that got the championship DVD started.
Erika Jansen: You became a top notch player even with a bum knee, and became a weapon all over the field.
Anna Stinson: You are the very best I have ever known. And you're not too bad of a soccer player either.
OK, now if you are still with me, you must be a Huskie senior parent who is unable to work the day after a big rivalry loss, or unable to function whatsoever due to the end of a long run of great high school soccer, so let's have a final wrap.
The last four seasons of the women's game have been graced with:
Teams loaded with friendship and respect, from seniors to freshmen, without exception.
Sixty-eight victories.
Huge wins over teams like Portage Central, Forest Hills Central, E Kentwood, Plainwell, with trips to the regional finals twice and semi finals once.
Chez Huskie
Al and Tom
One championship DVD

Thanks Huskie soccer!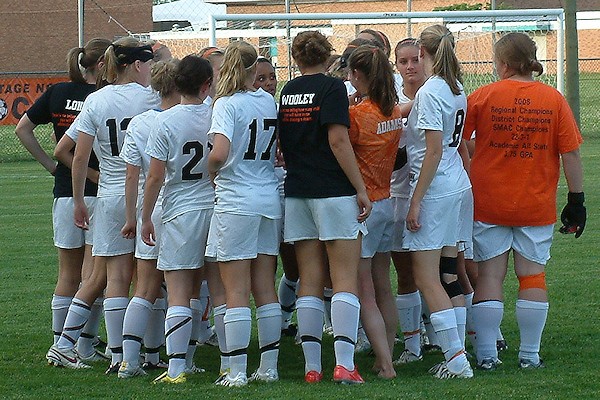 A serious TEAM Huddle at the beginning of the second half in which the Huskies outplayed the Mustangs
Sidney saw lots of action and made all kinds of saves to keep the Huskies in the game
| | | |
| --- | --- | --- |
| | | |
| Hannah pivots away from pressure | Sid makes another save | Bre was solid on D |
| | | |
| --- | --- | --- |
| | | |
| Erika drives upfield under pressure | Andy studies the situation | Natalie chooses her spot |
| | | |
| --- | --- | --- |
| | | |
| Laura explodes toward the free kick | Hannah lands before her opponent | Erika surveys the field for lanes |
The following nine pictures taken by Denny Sorensen (and available on Facebook) chronicle the last 7 seconds-



After the corner kick was kept alive by several Huskies in the box, it rolled outside the 18 where Erika ran
on to it and drove a line drive around and through all the players and into the post, where it bounced back out.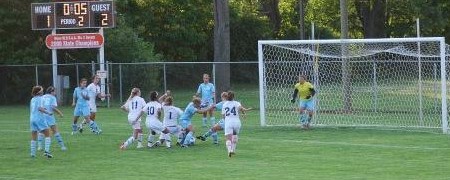 As usual, Cassie's in the middle of things for the rebound, with others not far away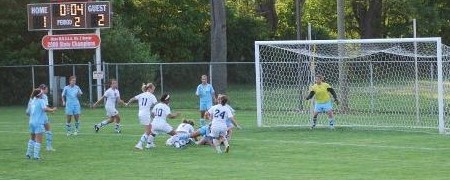 The way some fans in blue complained about the obstruction call earlier, it's a good thing they didn't get called for dangerous play (in the box) for trying to clear the ball away from Bre and Nicole while on the ground.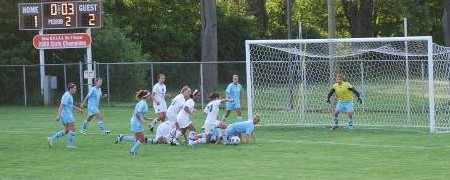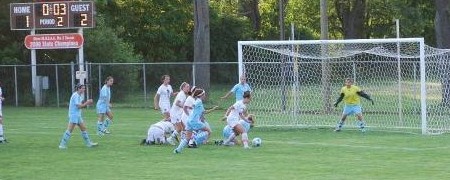 Hannah prepares to get off a quick shot...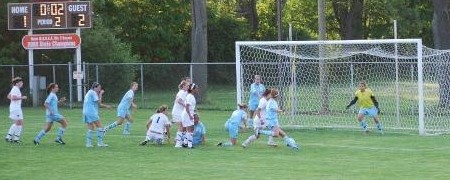 but Lindsay Shafer made the play of the game for the Mustangs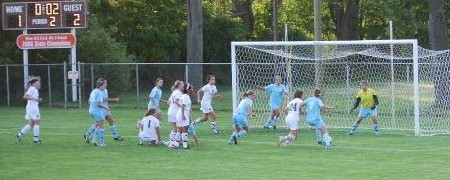 and with just 2 seconds remaining the ball was cleared wide.
---
SMAC Title goes to PC - 26.May.2010
JV: The JV team lost their final game of the season to Portage Central, but finish with an 11-7-1 season. PC's varsity is stacked with nearly all juniors and seniors, so the frosh and sophs primarily reside on the JV team. PN junior varsity has 12 of its "classmates" up on the Huskie varsity, so losing to a fine soccer program needs to be put in perspective. Even though the Huskies were down, they played tough to the end, looking strong and actually "winning" the last seven minutes of action 1-0. It was fun to watch this team…when they were on, they looked very impressive. Coach Pat plays everyone and develops players for the varsity, and wins are a side product to development. Some of these players will be making immediate impact on the varsity next year.
Thank for your great effort, winning season, and tough play with good sportsmanship. Way to go JV.

VARSITY: Perhaps thanks to exams, the student portion of the crowd at the big rivalry game for the conference title was toned down somewhat. But the normal soccer parents were there in droves. Some people tried to beat the heat and arrive about eight seconds late. But for those who did arrive eight seconds late, they missed the first Huskie goal. Off the midfield start, the Huskies moved the ball toward the Mustang goal and Hannah Scafaria rammed in the goal with eight ticks gone. The goal was a great confidence builder, but dang it…79 minutes and 52 seconds remaining.
PC tied the contest at the 12 minute mark. But Northern did not go away, and took advantage of another opportunity eight minutes later. Erin Prior gathered in a ball in the box and punched it off the crossbar. Casey Shauman, running in from the other side, leaped and headed the ball into the goal for a 2-1 Huskie lead. Moments later Casey would pay the price for scoring the goal, or for hustling, or for something, as a much bigger defender lowered her shoulder and drove Casey into the boards a few seconds after Casey got rid of the puck. Casey had to leave the game for the rest of the period, but trainer Andy Sawbones Lawrence sewed her up and Casey returned for the second half action. The cross check brought a warning but no time in the penalty box, and this caused Huskie fans to scream bloody encouragement like they were at a Wings game. After a brief clean up by the Zamboni, the action got started again.
It looked like Northern was headed to the half with a one goal lead, but with just 15 seconds left in the half, a PC ball was lofted into the box and then headed into the goal. Everyone was waiting for an offsides call…OK, half of the people in attendance were waiting for one, or wanting one, but no go, and the score was tied at two each.
The second half saw spirited action, but the Mustang machine keeps on the pressure for 80 minutes. For the second time this season, Northern went to the break with the score tied. But PC scored twice in the latter half of the second half for the 4-2 victory.
The Huskies had many great performances in this game. Risking leaving out someone who busted their guts, we can simply congratulate the entire squad for giving all they had for 80 minutes. It was a great and entertaining contest. There may be a better rivalry game somewhere in the country, but let's be real…no there isn't. The Lakers-Celtics and the Yankees-Red Sox…give me a break! U of M – Ohio State…not even in the Woody-Bo era! PN forensics vs. PC forensics…even intellectually, just not as supercharged!
| | |
| --- | --- |
| SENIOR MOMENT: Speaking of rivalries, this one has perhaps the most competitive player ever roaming the midfield. Cassie VanderSloot LOVES to compete, and in the rivalry game she shifts into gears most humans and car companies can only imagine. On the day you may be reading this (Thursday, May 28), the Girls on the Run program will have a few thousand young girls running through downtown Kalamazoo. When Cassie was in fourth grade, she "participated" in Girls on the Run. Schools lined up in reverse alphabetical order (Amberly) and then alphabetically by student. Cassie started approximately 1,500 girls back in the pack, out of 1,500 "participating". Why is the word "participating" in quotes? Don't ask Cassie. That word for Cassie means "win at all costs". Cassie took off in the 5K run and passed 1,499 runners to finish first. So the next time you are looking for someone to "participate" in something, don't ask Cassie. Next time you want to WIN something, ask Cassie. Thanks Cassie, for your competitiveness. | |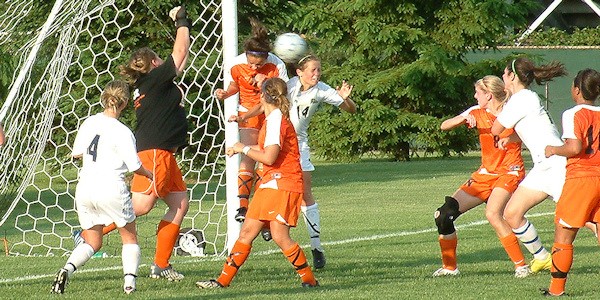 Karli heads this one out as PC players push in aggressively
| | | |
| --- | --- | --- |
| | | |
| Laura heads it out | Sidney collects another shot | Sidney tries to block the header |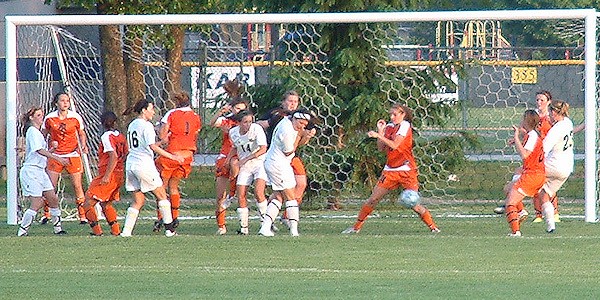 Lots of congestion in the goal area
---
PN defeats BCL - 24.May.2010
Global warming was on full display tonight as the temperature hit 90 for the first time in May since Al Gore invented the Internet. Battle Creek Lakeview, one year removed from knocking the Huskies out of the conference tournament semifinal game, came to Portage to try to duplicate the same feat. Northern was celebrating Senior Night, which was moved from the Friday night East GR game that was cancelled due to violent storms, also the result of global warming.
The temperature was actually a little warmer on this night around the Spartan goal, as Northern pressured the opponents net pretty consistently throughout the game. Lakeview did have a few opportunities to score, but the best ones came on long free kicks that peppered Northern goalie Sid Block. Sid stopped all of their chances, doing a nice job in securing the Huskies 11th shutout of the season.
Northern scored two goals in each half in this game. Casey Shauman scored midway through the first half when her shot ricocheted off a defender and into the net. Hannah Scafaria made the assist. Lakeview was able to keep the score 0-1 until just 52 seconds left in the half, when Scafaria scored off an Erin Prior pass.
In the second half, not until 13 minutes left in the game did the Huskies get the third goal. Scafaria flicked a header assist to Sam Kay, who shaked and baked her way between three defenders to put one in the oven. The fourth and final Northern goal came after Scafaria (if you haven't heard this name enough already?) was taken down in the box. Erika Jansen was the lucky senior on the field, and was awarded the PK. She stroked a perfect ball in the net and Senior Night was a hot success with a 4-0 victory.
Before the game, our four seniors were introduced with their parents. The player introductions are reprinted below. Thank you to our seniors for your efforts on and off the field, and in defining the true meaning of student athlete with your actions.
Erika Jansen #8
Erika is the daughter of Krystal and Norman Jansen. She has played for the varsity team for the last 3 years. Although she has been versatile enough to play many different positions, she has mainly played as an outside defensive player. Her strength and determination have made Erika an invaluable asset to the team. Erika has also been very successful outside of soccer. Some of her activities and honors include; being a member of International Club, four years of highest honors at PNHS and three years high honors at Kalamazoo Math and Science Center. Erika's future plans include attending University of Michigan and studying Engineering. Erika's role model is her soccer coach, Mr. Glass. He has always been someone that she looks up to and even though he has suffered some recent set-backs, his continued sense of humor shows his strong character.
CONGRATULATIONS AND BEST OF LUCK AT U OF M ERIKA!
Natalie McClish #6
Natalie's proud parents are Joyce and Larry McClish. Natalie has been a varsity Husky player for three years playing as an outside midfielder and outside defense. She brings her multi-sport athleticism to the soccer pitch and is able to stave off the toughest opponents. Natalie keeps her mind as sharp as her soccer skills by participating in the National Honor Society, the Student Senate, and Fellowship of Christian Athletes. She has also received Highest Honors at PNHS for the last four years! She plans on attending U of M and studying Movement Science so that she can become a Physical Therapist. Natalie's role models include Tim Tebow and her parents because they both bench press the same weight and they both exemplify the type of person that she would like to be some day.
CONGRATULATIONS AND BEST OF LUCK AT U OF M NATALIE!
Anna Stinson #13
Anna's parents are Ed (Big Ed) and Margie (Large Marge) Stinson. She has been a varsity player for 4 years as a forward, a center mid-fielder and the best cheerleader on the team. During her freshman year she made 2nd team all state and during her sophomore and junior years she made 1st team All State. Anna has been an integral part of this team with her control of the mid field as well as her innate ability to find the back of the net. Even though she has not had much play time this year due to injury, Anna has been a tremendous asset to this young team with her leadership and direction. Off the field Anna also shines as a leader of the Fellowship of Christian Athletes, and the Be There Foundation. She is a member of the National Honor Society, a Big 16 Scholar Athlete and she is the B'nai B'rith Recipient. Anna plans on attending Illinois State University and studying Exercise Science at the Honors College. She will also become a Lady Redbird as she continues to play soccer for ISU. Anna's role model is Big Bird because he stays so positive even though he is always around Oscar the Grouch.
CONGRATULATIONS ANNA AND BEST OF LUCK AT ISU!
Cassandra VanderSloot #1
Cassie's parents are Liz and Scott Vandersloot. Cassie has played soccer for many years but has been a proud Husky varsity player for the last 4 years as a defensive center midfielder. She uses her tenacity on the ground and in the air to control the middle of the field. She plans on continuing on in her soccer endeavors while attending Ferris State College as a Lady Bulldog. Because it takes a well rounded person to be a fantastic soccer player, Cassie has earned honors at PNHS and has been a member of the Latin Club for the last two years. Her role models include Natalie McClish and Anna Stinson for being great leaders and BreAnne Bye, Casey Shauman and Samantha Kay for just rockin'. She also counts her parents as her role models as she owes them for her existence.
CONGRATULATIONS CASSIE AND BEST OF LUCK AT FERRIS STATE
---
The seniors still have a few more games to play before they walk off into the sunset!
| | | |
| --- | --- | --- |
| | | |
| Laura gets good distance on this one | Casey gets behind the defense | Danielle prepares to reload the attack |
| | | |
| --- | --- | --- |
| | | |
| Sam gets one by the keeper | Erika nails this PK to make it 4-0 | Lauren pokes it away |
| | | |
| --- | --- | --- |
| | | |
| Josie takes the space they give her | Sidney blocks for another save | Andy always wants improvement |
---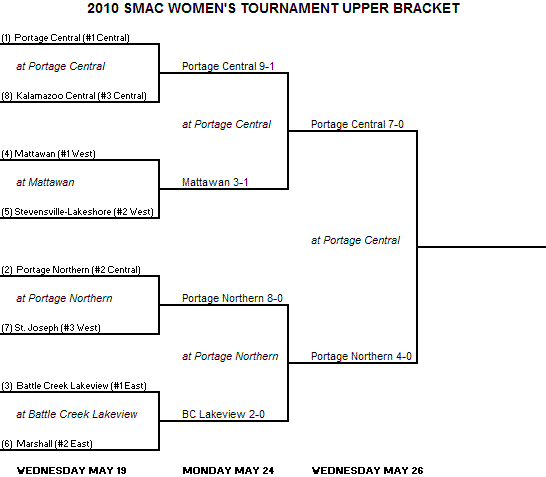 ---
Huskies Tame Bears - 19.May.2010
JV: The Huskie JV team turned a slow start into a 4-1 victory with a strong second half, raising their record to 11-5-1.
VARSITY: It was a perfect day to go to Silver Beach in St. Joseph and catch some rays. Bright sunshine and 80 degrees…a perfect day to see Lake Michigan, the precious sandy beaches and dunes, the cute lake town. Oh never mind. Lets go east to the Celery City (where is the celery anyway?), to the beautiful Huskie Soccer Complex, the precious Post Office on the horizon, the cute little Chez Huskie.
The Bears of St. Joe came to town to get the conference tournament started. With the season winding down in lightning fashion, Northern was charged up and scored in a flash with just a minute gone in this game. Freshman Nicole Berry scored off a pass from Danielle Melgar to get things going. Then, the Huskies spread the next seven goals out pretty evenly throughout the remainder of the game to take an 8-0 victory.
Casey Shauman redirected a perfect cross from Sam Kay into the net for the next goal. Then Melgar got back to the assist game by delivering the next two: the first to Erin Prior and the next to Kay, for a 4-0 halftime lead.
The halftime show was a mildly entertaining session of juggling by three Huskie alum. Sam the Bam Pace, Rachel the Rocket Myer, and Andrea Jammin Jones put on a show that was worth the price of admission alone…which was free once halftime started.
The second half included four more Huskie goals. Chelsea Carpentier scored off a Shauman pass. Then, like looking in a mirror, Carpentier assisted on a Shauman goal. Then, Breanne Bye sent a ball out in front of Erin Pryor, who thought she was WAY offsides and just sort of stood there with pangs of guilt and embarrassment…but wait, what, no whistle, hmmmm, OK, restart the engine and score. There was one lone defender on the other side of the field hidden in the blinding sun. Finally, Sam Kay wrapped up a day of hustle with the final goal of the night, on a feed from Karli Fisher.
Northern welcomed back goalie Jenna Long to some action after nearly a month off with a couple of broken fingers.
SENIOR MOMENT: Today, after nearly eight months of layoff, senior Anna Stinson is a Hip Dude once again. After double hip surgery, today (May 19) is the day that Anna can start running again. Scott VanderSloot put this date on his calendar a long time ago…but sorry Scott, Anna cannot play tonight. Anna's soccer story can be traced back to when she was about one year old, and ironically, another Hip is involved. Anna's mother Margie coached Anna's older brother Matt's AYSO team when Anna was one year old. Margie would put Anna on a blanket on the sidelines with a pile of crackers. (Anna's dad must have been home on a couch eating tortilla chips watching reruns of Cheers.) When the crackers were gone, Anna would cry (just like she would do today if she ran out of crackers). Margie would pick Anna up and strap her on her hip, running around coaching the boys. That is how Anna learned the game at a very early age, in a very hip way.
| | | |
| --- | --- | --- |
| | | |
| Nicole makes a nice inside cut | Katie prepares to send it in | Chelsea was strong all over the field |
| | | |
| --- | --- | --- |
| | | |
| Jenna's back in action | Josie sends it up to a teammate | Lauren pushes it ahead in the box |
| | | |
| --- | --- | --- |
| | | |
| Sam threatens close to goal | Natalie takes it up at warp speed | Karli heads it forward |
| | | |
| --- | --- | --- |
| | | |
| Laura serves up another corner kick | Erin takes a shot from 17 yds | Casey gets behind the defense |
| | | |
| --- | --- | --- |
| | | |
| Cassie's quick pass | Natalie drives upfield | Anna helps keep Andy cool |
---
Huskies Blank Lancers - 17.May.2010
JV: The JV team played a strong game against the Lancers of Lakeshore and knocked down a 3-0 victory, raising their record to an excellent 10-5-1. The junior varsity has accomplished this record with five of "their" freshmen playing on varsity all year. Way to go JV.
Varsity: Jason Hansen, the most prolific scorer in Detroit Lions history, will soon be retiring from his field goal duties. Lion management may wish to scout the Huskie women's varsity soccer team during the next NFL draft. A plethora of Huskie kickers split the uprights eight times in a 25-0 thrashing of the Lancers. That's eight field goals through the goal posts lurking over the soccer nets, and one conventional soccer-style goal into the net.
The only real goal came 15 minutes into the second half, with Casey Shauman taking a feed from Erika Jansen and hitting a perfectly placed shot from 27.5 yards out (really…we were playing on a football field). Lakeshore came into the game with a sparkling 10-2 record, and although they dodged multiple bullets (field goals), they were just one Huskie breakdown away from tying the score. Laura Glass kept the long-ball attack at bay, and there was no Huskie defensive breakdown in this game. The Lancers one main scoring attempt ironically came with just 15 seconds left on the clock, when their only corner kick was placed perfectly into the box. The ball was jostled around briefly before being knocked away for the 1-0 victory.
A couple of Northern freshmen goal scorers weren't available to knock down a few scores for the Huskies, but they teased the fans in the pregame with a little game of kick ball back and forth, each using their only good leg, each propped up with two crutches, and best of all, each smiling. Shelby Adams is lost for the season and Hannah Scafaria will miss a few games. Northern fans' patience will be rewarded over the next few weeks and years as these two get healthy.
Erin Prior spent this game working hard all game long in the midfield, along with a couple of other brain-tested seniors, Cassie VanderSloot and Natalie McClish (fresh off a four hour IB biology exam). Karli Fisher, who can somehow snake her body between the player and the ball at will (lots of will), helped create some of those "field goal" opportunities with fine passing. Lauren Barlow and Josie Huss, who seem to take advantage of the minutes they play by being fearless, contributed solidly to the Huskie cause. Two other freshmen (Nicole Berry and Katie Sorensen) also gave their usual hustle and did the things Northern needed to win this West Crossover game.
The Huskies record goes to 12-3-1 for the year, with this 1-0 victory the 9th shutout for the defense. The eight field goals is also a school record.
Danielle was mugged from behind just outside the box yet stayed on her feet even though knocked off the ball
| | | |
| --- | --- | --- |
| | | |
| Cassie prepares to distribute | Natalie sprints to be first | Justin's pre-game pep talk |
| | | |
| --- | --- | --- |
| | | |
| Nicole carries upfield | Sam blocks a defensive clear | Erin races toward goal |
| | | |
| --- | --- | --- |
| | | |
| Which way will she dart next? | Karli in control | Hannah and Shelby on crutches |
---
Trojans Earn Road Victory - 14.May.2010
JV: Northern's JV team played well but could not get on the board in a 0-1 defeat. It was a very good game, and although it was a loss, we are happy that our girls got through the game without any serious injuries.
Varsity: The Plainwell varsity came to town looking to crack the win column against Northern for the first time in many years. Northern has enjoyed some huge victories over the Trojans, including a regional victory in 2007 and a district championship victory in 2008. Those were the good ole tournament days of Division 2. This Plainwell team played a little hungrier than past teams and brought a rivalry-type crowd along for the ride.
Northern struggled to find a few breaks that might turn the tide in this one, but couldn't find more than one…and that was just one too few. The Huskies had two starters leave with injuries in this one that added to the walking wounded. But the healthy kept working hard and had a couple opportunities to tie in the waning seconds.
The first half was fairly even, but Plainwell put up the first marker with under four minutes left in the first half. The ball got behind the goalie and Laura Glass kicked it out; it came back in and Laura kicked it out again, but a third consecutive attempt could not be rejected and the half ended 0-1.
Breanne Bye played a great defensive game tonight for the Huskies. Goalie Sidney Block also did good things between the pipes. Northern tallied the tie with 25 minutes remaining when Danielle Melgar hit a lengthy cross that Erika Jansen trapped and then put a great shot in about the only open spot in the net. But with just 10 minutes left, after Plainwell lined up for about its tenth corner of the night, a perfect kick into the box was put in by a Trojan player for the 2-1 victory.
SENIOR MOMENT: Erika Jansen has been playing very well for Northern this year. She is a very smart player (not ironic that she was the recent recipient of an Excellence in Education scholarship for Kalamazoo County students), while throwing in some excellent foot skills, ball control, and hustle. Although Erika is a kind and quiet soul, she can cop an attitude when competition is involved. When Erika was 9, her Portage Lightning team was pretty good…at least around here. They went to a tournament in the Detroit area and found out there were much better teams, getting smoked one game 11-1. That game saw torrential rains and a small stream running through midfield. Erika was forced to do a couple of face plants during the game and came off after the game with only those blue eyes and her lower lip showing through the mud. Her dad wanted a team picture. All the girls were game…except one. Erika just lost a game and she was cloaked in mud. She would have nothing to do with capturing the moment! Erika had a great goal and a great game tonight, but I hope nobody asked to take her picture.
| | |
| --- | --- |
| | |
| Erika checks out her options | Cassie changes direction |
| | |
| --- | --- |
| | |
| Natalie makes a nice run upfield | Bre makes a nice run upfield |
| | |
| --- | --- |
| | |
| Hannah launches a bullet | Erin does her famous stepover move |
| | |
| --- | --- |
| | |
| Katie on a nice overlap | Sid had lots of action and many nice saves |
| | |
| --- | --- |
| | |
| Cassie blocks it upfield | Erin tiptoes down the line |
| | |
| --- | --- |
| | |
| Erika carries upfield | Can't afford to lose any more players to injury! |
---
At the Senior Awards ceremony last evening, all four Husky seniors were recognized for achieving highest honors
---
Do you like the PNHS Women's Soccer Facebook page?
Click here to go to it where you can indicate your approval.
---
Huskies vs Beavers - 10.May.2010
The Beavers of Harper Creek came to Portage for a SMAC Crossover game. It was the matchup of commonly affiliated mascots: Creek/Beavers…Northern/Huskies. Northern was down three or four starters from injury and illness, but the Huskies run deeper than normal this year and were still able to put up six goals to none for Harper Creek.
Nicole Berry, playing a fine game, started the scoring about 13 minutes in off an Erin Prior pass. Thirteen minutes later, Sam Kay scored off a nice cross pass from Danielle Melgar. Cassie VanderSloot scored the next goal according to the press box, but Breanne Bye had something to do with it, although we are not sure what.
Three more goals came in the second half. Prior assisted on a Casey Shauman goal, and then scored on an assist by Berry. Prior seemed to be playing catch with the goalie on her first five attempts, but then broke the ice with that assist and goal. Shauman scored the final goal when Lauren Barlow pushed a pass to her through numerous defenders.
Sid Block was the 6-0 shutout goalie for the Huskies.
Time now for our mid-season report on Chez Huskie. The Five-Star concession stand has had some major setbacks lately as the popcorn machine broke and a full box of Tootsie Pops were destroyed, both at the hands of seven-year veteran booster secretary Margie Stinson. Margie was penalized by being given additional concession duty, which seemed kind of an odd sentence. But working around these difficulties to once again produce great food and good profits for the soccer program, let's give it up for the hard work and efforts of Tom and Kathy Huss. This is one of the toughest parental volunteer jobs, and they have done it effectively and professionally. THANK YOU.
| | | |
| --- | --- | --- |
| | | |
| Nicole directs traffic | Bre is fast and strong! | Karli looks to connect |
| | | |
| --- | --- | --- |
| | | |
| Erin was physical and phast | Laura nearly won this ball | Casey takes a shot |
| | |
| --- | --- |
| | |
| far post or near post? | Cat-quick Natalie wins this ball |
| | | |
| --- | --- | --- |
| | | |
| Cassie sends it in | Erika volleys it back | Katie watches her header |
| | | |
| --- | --- | --- |
| | | |
| Josie surveys her options | Lauren wins this ball behind her | Chelsea wins another header |
| | | |
| --- | --- | --- |
| | | |
| Breanne fights for it | Sam takes on an opponent | Danielle races upfield |
| | |
| --- | --- |
| | |
| Chelsea made a great play to earn this chance | Katie keeps it in front of her |
---
Northern Wins at Gull Lake - 07.May.2010
No matter how good, how bad, how cold, how hot, how short the grass is or how long, Portage Northern and Gull Lake always seem to put together an entertaining game of soccer. This two goal victory was a blowout by historical standards, which has been a one goal differential for many years now. And to add to the closeness, fans from both teams sit interspersed with each other on the Gull Lake bleachers. This is where you can find adults at their finest, "cajoling" each other with fun little antidotes and gentle barbs and laughable banter…all in good nature of course.
The first half of action was like the old ABA pro basketball league, back and forth into the offensive ends with multiple opportunities to score, one close call after another. The Huskies certainly had more opportunities, but Gull Lake can take the ball the other way in a hurry. First blood was drawn by Northern 16 minutes in, off a Natalie McClish through-ball that Sam Kay ran down into a one on one with the goalie. Sam won the battle for a 1-0 lead.
Four minutes later, Gull Lake's Devon Bond drove the left side and put a shot off the right post that ricocheted into the left side of the net for the tie. Whenever Bond gets the ball in the offensive end, there is a little breath-holding going on, but on this night, Bre Bye did a great job of containing Bond and the defense clamped down on everyone else. The defense was led by the usual culprits, along with Katie Sorenson with some excellent contributions. With four minutes left in the half, the Huskies took the lead for good when a Kay Korner Kick landed in the pack, and Casey Shauman punched it in. The half ended shortly after goalie Sid Block stopped Bond one on one with a great sliding save.
Northern was a little more dominant in the second half. The final goal came with 13 minutes remaining, when Hannah Scafaria threaded the needle with a pass to Shauman, whose defender had a five yard head start. That's when Casey's gas peddle got stuck (no time to take it in for the recall) and she blasted by the defender. This year Casey is making defenders look like they "stood there like the house by the side of the road": (Ernie Harwell: 1918-2010).
Shauman's goal made it a 3-1 victory for the Huskies, raising their record to 10-2-1.
| | |
| --- | --- |
| | |
| Sam's cross from the left side is already on the way | Karli gets behind their D and moves toward goal |
| | |
| --- | --- |
| | |
| Hannah gets behind their D and sends it across | Cassie was strong again in the middle |
Casey had the presence to follow her
own shot into the net for goal #3

Chelsea drives upfield with two
Gull Lake players in hot pursuit
| | |
| --- | --- |
| | |
| Katie played impressive defense | Erin was strong up front |
| | |
| --- | --- |
| | |
| Danielle charges upfield while holding her ground | Nicole contributed on the outside (left and right) |

Casey gets behind the Gull Lake defense and looks for a place to send in a cross as fans watch
---
Car Wash Saturday May 1 is Big Success

For more info and photos, visit the
Car Wash page
.
---
Norrix Falls to Northern - 03.May.2010
Portage Northern assistant coach Ryan Johnson feels a little more patriotic than most when the National Anthem is being sung at Huskie home games. His mother is behind the microphone and her live rendition of the song is a special treat for the fans. Thank you Kathy.
Northern scored four goals in each half on their way to an 8-0 victory tonight against the Loy Norrix Knights. Ten minutes in, Sam Kay took a pass from Karli Fisher and spun the opposite way the scouting reports state she turns, and knocked one in off the left post. Two minutes later Freshman Fisher hit a 25 yard beauty for her first career high school goal (which seems impossible since she has regularly been in the offensive mix). Casey Shauman assisted on the goal. Just minutes later, Kay was pushed from behind just outside the box, and her free kick was perfectly placed for the third Huskie goal. Hannah Scafaria finished off the first half scoring off another assist by that Fisher kid.
Casey Shauman had many close shots in the first half.
Danielle Melgar was held scoreless tonight but played a fine all around game. Chelsea Carpentier had many perfect touches, traps, passes...in the first half. In the second half she single handedly thwarted the Knights two scoring opportunities, which came about five seconds apart. Off a Loy Norrix corner kick, Northern goalie Sidney Block came out to try to knock the ball away but a Knight's player got a good close range shot off. As the ball neared the goal line, Carpentier kicked it out. It went to another Knight's player who shot on the open goal again…this time with Chelsea heading the ball out of goal's way. Shutout: Sid Block…Assist: Chelsea Carpentier.
Casey Shauman was getting ready to take more shots in the second half.
Halfway into the second half, defender Natalie McClish made a run toward the goal, and her shot from about 25 yards out had the movement of her cousin Jake Engels' knuckle-screwgy-spitball…like one of those oblong gag golf balls that bounce all over the place. Laura Glass (speaking of golf) had the assist. Sammy Kay followed up the McClish goal with her third goal of the game with an assist to Erin Prior. The Huskies 7th goal was Prior's this time, off a fine feed from Erika Jansen.
Casey Shauman just missed on a couple more rocket shots.
Although the final goal was anticlimactic making it 8-0, Northern fans were on the edge of their seats as Shauman took a pass from Prior near mid-field with about six seconds left. Racing toward the goal with a defender in tow and a goalie in wait, the fans' eyes went back and forth…Casey, clock…5, 4…Casey, clock…3, 2…Casey, clock, shoot…1…and like they say in the English leagues… "she scooooooooooooooores"! What may have seemed like a disrespect cheer if you were in the other bleachers was simply a Casey cheer. A game of very hard work finally paid off with one second left, and all would be well at the Shauman home tonight.
| | |
| --- | --- |
| | |
| Chelsea played a good all-around game | Sam had a hat trick and some nice passes |
| | |
| --- | --- |
| | |
| Nicole got a good jump on the defender for this cross | Hannah got this shot off early enough to make it count |
| | |
| --- | --- |
| | |
| Katie delivers the throw perfectly to her teammate | Natalie made many nice runs upfield, and scored too |
| | |
| --- | --- |
| | |
| One of Casey's hot shots | Erin buried this one in the back of the net |
| | |
| --- | --- |
| | |
| Nicole looks over the passing lanes | Erika fights to hold position and deliver the pass |
---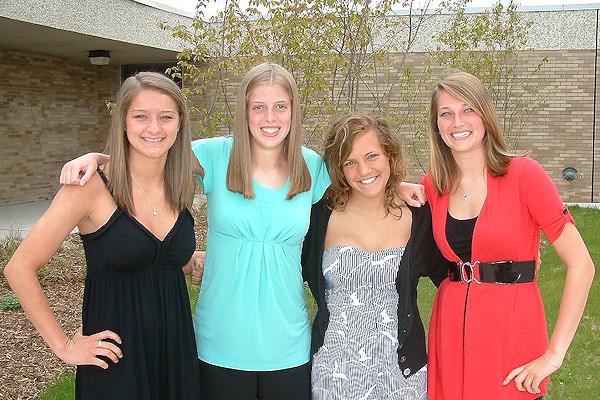 Four Husky Seniors made an off-the-pitch appearance at the Senior Athletic Awards program
Sunday where all four were named to the SMAC Academic All Conference Team, and Anna
Stinson was named the female B'nai B'rith Scholar-Athlete of the Year for Portage Northern.
Anna also gave an address that was very well received by students and parents alike.
Congratulations Natalie, Erika, Cassie, and Anna!
---
Huskies Shut Out Spartans 4-0
Today we will give the JV a well deserved write up. The JV has done a nice job this year, have won quite a few games, but have had a couple flat games also. This game though, playing a tough BC Lakeview team, they may have turned the corner toward being unbeatable if they can emulate the style of play that occurred tonight. Huskie fans enjoyed crisp and accurate passing, winning balls, toughness, solid goaltending, and a couple of goals in the second half for a 2-0 victory. Way to go JV and coaches!
The varsity returned to the scene of a rare early exit from the conference tourney here one year ago. That game was on the mind of Huskie nation this time around and coming out with indifference was not an option. Laura Glass made sure of that when she smoked in a penalty kick six minutes into the game. We give the assist (unofficially of course) to Sam Kay, who drove through about four Spartans before being tripped in the box. That culminated dominating play by Northern for awhile, as Lakeview spent the next ten minutes with free kicks all around the midfield, where Nicole Bentz launched missiles into the Northern goal area. But the Huskies missile defense system was activated and the Sidney Blockade held on until the next offensive could take place.
Nicole Berry spent a large portion of the first half winning balls and pinpointing passes. Glass, as has been the case all year, made all the right moves as a back stop. And Cassie VanderSloot, doing her impression of New Orleans famous jazz pianist Dr. John (who plays in Kalamazoo tonight); "I was in the right place, but it must have been the …right…time", as she continually spoiled Spartan runs.
The Huskies played well and had many shots on goal, but Spartan goalie Grace Labrecht showed why she is a D-1 goalie and had numerous acrobatic saves. Northern led just 1-0 at the half.
Seven minutes into the second half Kay hit a cross that was won by Shelby Adams, who orchestrated a handball call on Lakeview. Kay blasted in the PK for the 2-0 lead (Adams for the unofficial assist). Just two minutes later, from about 35 yards out, Sam Kay, off a pass from Danielle Melgar, got off a quick unsuspecting kick that just got over the goalie's outstretched arms. Late in the second half Casey Shauman scored the Huskies fourth goal after receiving a pass from Lauren Barlow, who played great minutes while in there for Northern. Katie Sorensen (that's SOR-n-sen and not So-REN-sen) played very well for the Huskies. Northern had a slew of great efforts, including Sid in the goal, having her best game in a Huskie uniform.
Northern soccer hopes that Shelby Adams is up and "adam" soon! Good luck Shelby.
| | |
| --- | --- |
| | |
| Laura Glass converts this 1st half PK confidently | Sam Kay converted this 2nd half PK solidly too |
Spartan opportunities like this were snuffed out by Bre Bye and the defense numerous times in the first half
| | |
| --- | --- |
| | |
| Cassie VanderSloot sends it in with another good pass | Chelsea Carpentier won most balls that came her way |
| | |
| --- | --- |
| | |
| Casey Shauman considers her options | Erika Jansen jukes around a Spartan midfielder |
| | |
| --- | --- |
| | |
| Hannah Scafaria catches it cleanly, then goes to work | Josie Huss keeps her head up and finds a teammate |
| | |
| --- | --- |
| | |
| Karli Fisher launches a strong cross | Katie Sorensen outruns her opponent |
| | |
| --- | --- |
| | |
| Shelby Adams makes another well-placed pass | Sidney Block made every save to earn the shutout |
| | |
| --- | --- |
| | |
| Casey Shauman moves upfield shoulder-to-shoulder | Fans young and old liked what they saw on the field |
---
Bearcats put up Good Effort against Huskies - 28.Apr.2010
In what could be considered a miraculous return to the pitch from double hip surgery, senior Anna Stinson scored 11 goals and also assisted on all 11 goals. She also was in goal for the shutout. From the Huskie soccer complex, this is Walter Mitty reporting.
OK, Stinson actually watched another game from the sidelines, but her youthful friends of Huskie soccer did pour in 11 goals on this night vs. the Bearcats of Battle Creek Central (more on the Bearcats later). If only Northern could have "borrowed" a few of these goals in the two previous games, all could be perfect. But in 40 minutes of action tonight, BC Central could not keep pace with Huskie soccer.
Hannah Scafaria scored three times, all on assists from Shelby Adams. Casey Shauman scored twice unassisted. Other goal scorers were Samatha Kay (2), Laura Glass (2) and Erin Prior (2); off assists from Scafaria, Nicole Berry, Karli Fisher, Danielle Melgar, and Prior (2). Breanne Bye was held scoreless on multiple attempts to find the net, but it must be noted she was double and triple teamed all night.
Besides senior Stinson, three other seniors should be noted for various accomplishments: